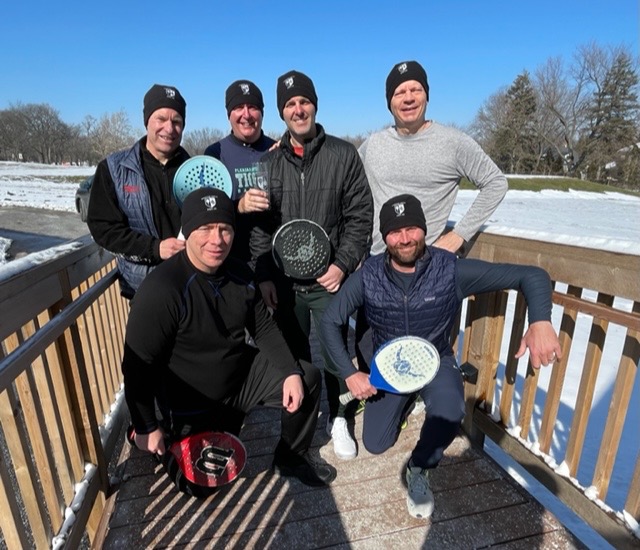 The 11th season of the Weekend Warriors Paddle League (WWPL) ended with a Playoff Finals & Celebration at the newly-renovated KLM Paddle Hut on Saturday, February 26.
Flight C Final was played earlier finishing with a 3-set battle on the third and deciding match. First year captain Matt MCGovern's team prevailed to take it all. They also finish the regular season in first.
Flight B Final saw Don Abb's Quaran team run the table with a season victory and finals sweep. 
Flight A Finals featured season champ Andy Freeman's Over Served vs. Jim Towns' 2nd place team. Over Served Court 1 pair of Jeff Ellithorpe and Matt Schuler defeated Michael Early and Adam Fromm in two tight sets. Jimmy's Court 2 of Sam Stout and Bill Sloyan took the 1st and 3rd sets to take down Greg Wenstrup and Jim Condon. The dual match finished with an upset by Jimmy's Series 11 pair of Chris Broughton and Kevin Collins over Captain Freeman and Will Sutton.
In addition to the 24 players, the Finals Celebration attracted about 25 Warriors from other teams to enjoy burgers, brats, chili and beverages on a perfect day to watch some competitive paddle matches, as well as get in a few sets with players from other teams and flights.
The WWPL was started in 2011 by players from 3 clubs (Hinsdale Paddle, Salt Creek Club, and Hinsdale GC) with goals to develop stronger relations among the area's fast-growing paddle-playing community. This year, we had 135 participants on 14 teams (plus subs) representing 10 clubs!
Congratulations to the winning teams, all the players and captains for making this a great season! Special thanks to Commissioner Rob Foster for all he does to run this league.
Paddle on!
FYI – If you wish to help organize next season, please contact Commissioner Rob Foster.