2023 Cupid Courts Misericordia
February 10 @ 9:00 am

-

10:00 pm

CST

$125.00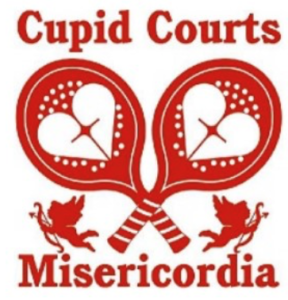 Hinsdale Paddle will be one of the clubs hosting the 13th Annual Ladies and 3rd Annual Men's Cupid Courts Misericorida Paddle Events on Friday, February 10. The women's all-level paddle mixer with start at 9 am followed by lunch at noon at Salt Creek Club. The men's non-competitive paddle tournament will start at 6 pm.
Both events will be held at various western suburb paddle clubs. Player club assignment will be based on level of play. All players will receive an e-mail the day before the event with club assignment.
The cost is $125 per player which includes several rounds of paddle, food, drinks and a Cupid Courts favor, plus an opportunity to donate to a wonderful place! Raffle tickets are also available.
This event was started 12 years ago by a group of women who wanted to combine their love of paddle tennis and the desire to help a needy cause. Thus the origin of Cupid Courts, a fun day of paddle tennis benefitting Misericordia Home. It has evolved from one club to all eight local paddle Clubs. The morning event was sold out in 2022 and was attended by approximately 170 women, raising more than $75,000.
In 2021, the men joined in on the fun later the same evening, at LGCC, and we hope to have even more included this year.  The men's event of 32 LGCC members raised close to $10,000 both of the past 2 years. This year's Men's event will be hosted at 3 area clubs.
Misericordia currently supports 600 children and adults with developmental disabilities from diverse racial, religious and socio-economic backgrounds. This most vulnerable population lives in an environment of respect and beauty where they are challenged to be their best, thanks to the loving care of Misericordia staff and volunteers.
To learn more about the event and to register, please visit https://e.givesmart.com/events/u7J/