100% of proceeds goes directly to USO of Illinois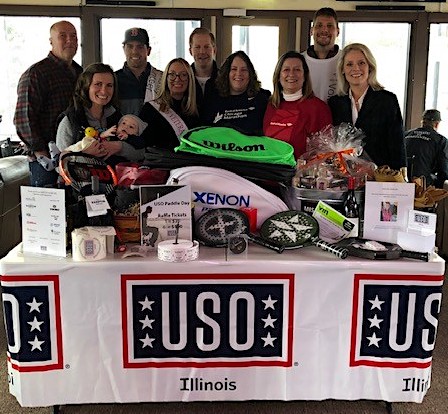 Hinsdale Paddle Club's participation in USO Paddle Day, February 1, was a great success! The event raised $5,950 with 100% going directly to the USO of Illinois to support the heroic men and women that serve our country. Throughout Chicagoland the event raised over $50,000! 
Thank you to everyone from the local paddle clubs that participated, including a special shout out to the Weekend Warriors. Additional thanks goes to Merrill Lynch Wealth Management for providing the food and volunteers, MillerCoors for the beverages and the many generous raffle donors.  Alison Ruble, Regional President for the USO was in attendance, along with Terry Lemke, former Marine, and current USO Midway Center Director.  We were honored to be joined by active duty LT Kate Woods and Major Alhaja Giwa Falana (Nikki) who graciously shared their stories about the USO's impact on their lives during the party.  Hope to see everyone having a good time for a great cause again next year!